Power of the Cross Blog
A Christian blog with articles to inspire and edify.
All posts are created from the viewpoint that faith in Christ and Him crucified is how we receive every good thing from God. When our faith is in the correct object, the Holy Spirit can work through us, bringing out the Power of God in our life.
Are you in trouble today? Are your problems getting the best of you? Worries creating anxiety? Stress causing health issues? People in life causing you problems?
We have a running and helping God that runs to our side when we are in trouble. If we know Jesus Christ as our personal savior, the Lord stands ready to help us through all of the trials and tribulations of life.
Hebrews 13:6 "So that we may boldly say, The Lord is my helper, and I will not fear what man shall do unto me."
The word helper is the greek word boethos (bo-ay-thos').  The word comes from two words, the first part 'boe' means a cry for help and the second part  'theo' means to run. Boethos is one who comes running when we cry out for help.
The word perfectly describes our Lord who is on standby, waiting and listening, ready to rush to our aid when we are oppressed. When we shout for help, God comes running to our aid!!!!
This will never change and God will always be there for us. Other people may try to harm us but we have a Heavenly Helper who will protect and help us.
Hebrews 13:8 Jesus Christ the same yesterday, and to day, and forever.
Be encouraged , the answer you are looking for is in the Cross!
---
Tithes and offerings is probably one of the most debated subjects in the Christian world. But it is the one time in the Bible that we can prove God or question Him as we give to the Work of the Lord.
We are commanded to bring 10% of all that we have back to the storehouse of God. The storehouse is where you are fed the true Gospel of Jesus Christ and Him Crucified. The storehouse is where the work of God goes forth, sending back into the world.
The tithe goes into the work of spreading the Gospel by supporting the materials and ministers needed to do the work.
Based upon scripture, what is tithing?
Mathematically it is a tenth. ". . . and of all that thou shalt give me I will surely give the tenth unto Thee" (Gen. 28:11).
Scripturally it is a law. "Thou shalt truly tithe all the increase" (Deut. 14:22).
Morally it is a debt. ". . . Wherein have we robbed thee? In tithes and offerings" (Mal. 3:8).
Economically it is an investment. "But lay up for yourselves treasures in heaven" (Matt. 6:20). "Give, and it shall be given unto you" (Luke 6:38).
Spiritually it is a blessing. "I will open the windows of heaven and pour you out a blessing that there shall not be room enough to receive it" (Mal. 3:10).
In closing, understand that the tithe is a starting point. After we tithe we should prayerfully seek God about what we should offer.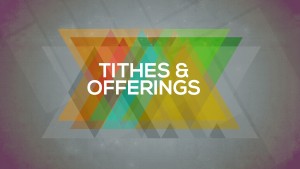 ---