SERMONS
Welcome to our vast library of teaching, preaching, interviews and devotional audio files. Most of these podcasts were created and aired for Power of the Cross radio. All files can be streamed from this site on the built in media player or downloaded on your local storage. If you would like to receive a free audio cd of any sermon, please use the contact page form . All copyrights to files belong to the Lighthouse Church. If you wish to distribute any of the material on this site in any form for commercial use and/or profit, please contact us to obtain written permission.
Jul 20, 2020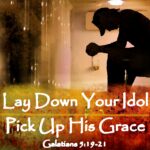 Lay Down Your Idol – Pickup His Grace
Now the works of the flesh are manifest, which are these; Adultery, fornication, uncleanness, lasciviousness, Idolatry, witchcraft, hatred, variance, emulations, wrath, strife, seditions, heresies, Envyings, murders, drunkenness, revellings, and such like: of the which I tell you before, as I have also told you in time past, that they which do such things shall not inherit the kingdom of God. [Galatians 5:19-21]
This sermon focuses on two words from the opening text – idolatry and witchcraft
When people hear the word idolatry or witchcraft, they almost always visualize a great giant carved statue of a pagan god with wild natives dancing in the light of a huge fire burning around it.
Idolatry can be so many things , but it transpires when an individual gives his complete and undivided attention , devotion, passion, love or commitment to a person, project or object OTHER THAN GOD. This sermon also examines witchcraft which Paul said was a work of the flesh. The Greek word for witchcraft is pharmakeia – medicines of drugs that inhibit a persons personality or changes his behavior.
Pastor Wilson goes into great explanation of how the Christian can have victory over idolatry and witchcraft by the Power of the Cross
Watch
Notes
Download
Date
Title
Jul 20, 2020

Lay Down Your Idol – Pickup His Grace

Jul 20, 2020

Lay Down Your Idol – Pickup His Grace

Now the works of the flesh are manifest, which are these; Adultery, fornication, uncleanness, lasciviousness, Idolatry, witchcraft, hatred, variance, emulations, wrath, strife, seditions, heresies, Envyings, murders, drunkenness, revellings, and such like: of the which I tell you before, as I have also told you in time past, that they which do such things shall not inherit the kingdom of God. [Galatians 5:19-21]

This sermon focuses on two words from the opening text – idolatry and witchcraft

When people hear the word idolatry or witchcraft, they almost always visualize a great giant carved statue of a pagan god with wild natives dancing in the light of a huge fire burning around it.

Idolatry can be so many things , but it transpires when an individual gives his complete and undivided attention , devotion, passion, love or commitment to a person, project or object OTHER THAN GOD. This sermon also examines witchcraft which Paul said was a work of the flesh. The Greek word for witchcraft is pharmakeia – medicines of drugs that inhibit a persons personality or changes his behavior.

Pastor Wilson goes into great explanation of how the Christian can have victory over idolatry and witchcraft by the Power of the Cross

Jul 5, 2020

Make America Holy Again

Jul 5, 2020

Make America Holy Again

In the past few years we have heard the slogan Make America Great Again. Although there is nothing wrong with saying MAGA, we need to make America Holy again (MAHA) if there is any hope for our nation to survive. Our country is in need of a revival that will cause God's people to come back to the Word and live lifestyles that bear credence to our profession of salvation. God expects his people to live a Holy life that is guided and directed by the Holy Spirit.

This message from Pastor Wilson sheds light on the current decline in the United States and what the church must do if to survive.

Jun 13, 2020

I'm not leaving until we get to Jordan!

Jun 13, 2020

I'm not leaving until we get to Jordan!

"I'm not leaving until we get to Jordan"

2 Kings Chapter 2

May 8, 2020

Mighty Women Of Faith

May 8, 2020

Mighty Women Of Faith

A sermon preached by Pastor Farrell Wilson on Mother's Day 2020. The message comes from Judges Chapter 4 and looks at the mighty women of Faith Deborah and Jael.

Apr 27, 2020

Are You Rapture Qualified?

Apr 27, 2020

Are You Rapture Qualified?

A teaching on the Rapture of the church. This message brings out 4 points from scripture about being ready for the return of Jesus Christ to Rapture away the Saints of God.

Mar 25, 2020

What, Who or Where Is Your High Place

Mar 25, 2020

What, Who or Where Is Your High Place

What, Who or Where is your High Place?

2 Kings 14:1-4 In the second year of Joash son of Jehoahaz king of Israel reigned Amaziah the son of Joash king of Judah. [2] He was twenty and five years old when he began to reign, and reigned twenty and nine years in Jerusalem. And his mother's name was Jehoaddan of Jerusalem. [3] And he did that which was right in the sight of the LORD, yet not like David his father: he did according to all things as Joash his father did. [4] Howbeit the high places were not taken away: as yet the people did sacrifice and burnt incense on the high places.

Feb 6, 2020

Answers To Life's Hard Questions

Feb 6, 2020

Answers To Life's Hard Questions

"Howbeit I believed not the words, until I came, and mine eyes had seen it: and, behold, the half was not told me: thy wisdom and prosperity exceedeth the fame which I heard." -1 Kings 10:7

The story behind this passage of the Bible takes us to a palace in Jerusalem. The two main characters of the story are the wise King Solomon and the other was a woman, the Queen of Sheba. This beautiful wealthy and powerful lady ruled over a great land. She controlled millions of people from a great palace. But there were hard questions in her heart that wealth and power could not answer. The Queen of Sheba heard how famous Solomon was, so she went to Jerusalem to test him with difficult questions. She took along several of her officials, and she loaded her camels with gifts of spices, jewels, and gold. When she arrived, she and Solomon talked about everything she could think of. He answered every question, no matter how difficult it was. The Queen was amazed at Solomon's wisdom. She was breathless when she saw his palace, the food on his table, his officials, his servants in their uniforms, the people who served his food, and the sacrifices he offered at the LORD's temple. We do not know all the questions she asked but we do know she said with joy THE HALF WAS NOT TOLD ME. Most importantly she learned about Solomon's God.

Jan 28, 2020

The Mule Ran Away

Jan 28, 2020

The Mule Ran Away

The Mule Ran Away

2 Samuel 18:9-15 And Absalom met the servants of David. And Absalom rode upon a mule, and the mule went under the thick boughs of a great oak, and his head caught hold of the oak, and he was taken up between the heaven and the earth; and the mule that was under him went away. [10] And a certain man saw it, and told Joab, and said, Behold, I saw Absalom hanged in an oak. [11] And Joab said unto the man that told him, And, behold, thou sawest him, and why didst thou not smite him there to the ground? and I would have given thee ten shekels of silver, and a girdle. [12] And the man said unto Joab, Though I should receive a thousand shekels of silver in mine hand, yet would I not put forth mine hand against the king's son: for in our hearing the king charged thee and Abishai and Ittai, saying, Beware that none touch the young man Absalom. [13] Otherwise I should have wrought falsehood against mine own life: for there is no matter hid from the king, and thou thyself wouldest have set thyself against me. [14] Then said Joab, I may not tarry thus with thee. And he took three darts in his hand, and thrust them through the heart of Absalom, while he was yet alive in the midst of the oak. [15] And ten young men that bare Joab's armour compassed about and smote Absalom, and slew him.

Dec 8, 2019

The Increase of His Government – Part 2

Dec 8, 2019

The Increase of His Government – Part 2

Part 2 of a sermon from Loren Larson about the Increase of Jesus' Kingdom in the heart and life of a believer.

For unto us a child is born, unto us a son is given: and the government shall be upon his shoulder: and his name shall be called Wonderful, Counsellor, The mighty God, The everlasting Father, The Prince of Peace. Of the increase of his government and peace there shall be no end, upon the throne of David, and upon his kingdom, to order it, and to establish it with judgment and with justice from henceforth even for ever. The zeal of the LORD of hosts will perform this.

Isaiah 9:6-7

Dec 8, 2019

The Increase of His Government – Part 1

Dec 8, 2019

The Increase of His Government – Part 1

Part 1 of a sermon from Loren Larson about the Increase of Jesus' Kingdom in the heart and life of a believer. For unto us a child is born, unto us a son is given: and the government shall be upon his shoulder: and his name shall be called Wonderful, Counsellor, The mighty God, The everlasting Father, The Prince of Peace. Of the increase of his government and peace there shall be no end, upon the throne of David, and upon his kingdom, to order it, and to establish it with judgment and with justice from henceforth even for ever. The zeal of the LORD of hosts will perform this. Isaiah 9:6-7